Mass Market Paperback: 368 pages
Publisher: HQN Books (April 26, 2016)
With her return to Jackson Hole, Wyoming, New York Times bestselling author Lindsay McKenna shows how love can find a way out of the darkness…
A fresh start—that's all Devorah McGuire wants. As a former Marine and current Ranger with the US Forest Service, she's grown accustomed to keeping others safe. But when the unthinkable happens, she can only hope that a transfer to Jackson Hole, Wyoming, will allow her to put the past behind her for good.
Dev's mentor at Grand Tetons National Park is fellow canine handler and horseman Sloan Rankin. He shows Dev the spectacular trails, never knowing the terror that stalks her every move. Despite her lingering fear, Dev feels an attraction for Sloan as wild as their surroundings.
With Sloan, Dev can envision a new life—a real home. Unless a vengeful man fresh out of prison succeeds in finishing what he started…
,

Purchase Links
My Thoughts:
If you love a great, provocative, and completely enthralling contemporary romance, then Lindsay McKenna's "Out Rider" is the book for you!
I really enjoyed getting to know this story's characters, Dev and Sloan. Both have so much in common, and both had interesting pasts that added flavor to the main story. I also appreciated that both characters have a military background, reflecting McKenna's own experience and knowledge of the ideas and attitudes of our military personnel! The pacing of this book is also lively and moves along quickly - an added plus for readers.
This book is the final book in McKenna's series that was set in Jackson Hole, Wyoming, but is easily read as a stand-alone story. But if this story is an indication of how good this whole series has been, I highly suggest going back and enjoying the other four books!
About Lindsay McKenna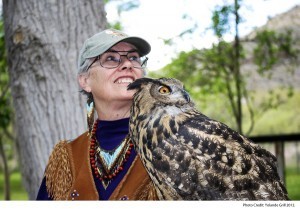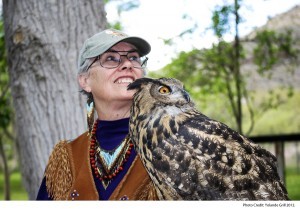 A U.S. Navy veteran, she was a meteorologist while serving her country. She pioneered the military romance in 1993 with Captive of Fate, Silhouette Special edition. Her heart and focus is on honoring and showing our military men and women. Creator of the Wyoming Series and Shadow Warriors series for HQN, she writes emotionally and romantically intense suspense stories.
Connect with Lindsay
Lindsay McKenna's TLC Book Tours TOUR STOPS:
Monday, April 25th:
Bewitched Bookworms
Wednesday, April 27th:
The Sassy Bookster
Wednesday, April 27th:
Written Love Reviews
– guest post
Friday, April 29th:
Bookaholics Not-So-Anonymous
Monday, May 2nd:
Read Love Blog
Tuesday, May 3rd:
From the TBR Pile
Wednesday, May 4th:
Booked on a Feeling
Thursday, May 5th:
Reading Reality
Friday, May 6th:
Book Reviews & More by Kathy
– guest post
Monday, May 9th:
Books a la Mode
– guest post
Wednesday, May 11th:
Palmer's Page Turners
– guest post
Monday, May 16th:
Bibliotica
Wednesday, May 18th:
Stranded in Chaos
Thursday, May 19th:
The Reading Cove Book Club
Friday, May 20th:
What I'm Reading
Monday, May 23rd:
A Chick Who Reads
Wednesday, May 25th:
Sharon's Garden of Book Reviews
My thanks to TLC Book Tours for including me on this tour and to Harlequin Books for providing the review copy. I was not compensated for my opinion.