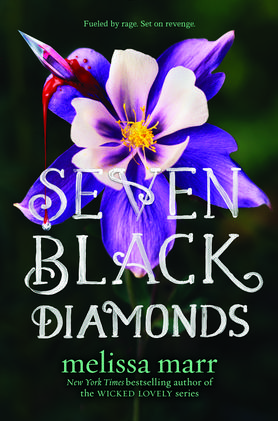 About The Book:
Melissa Marr returns to faery in a dramatic story of the precarious space between two worlds—and the people who must thrive there. The combination of ethereal fae powers, tumultuous romance, and a bloodthirsty faery queen will have longtime fans and new readers alike at the edge of their seats. Lilywhite Abernathy is a criminal—she's half human, half fae, and since the time before she was born her very blood has been illegal. A war has been raging between humans and faeries, and the Queen of Blood and Rage, ruler of the fae courts, wants to avenge the tragic death of her heir due to the actions of reckless humans. Lily's father has always shielded her from the truth, but when she's sent to the prestigious St. Columba's school, she's delivered straight into the arms of a fae Sleeper cell—the Black Diamonds. The Diamonds are planted in the human world as the sons and daughters of the most influential families, and tasked with destroying it from within. Against her will, Lilywhite's been chosen to join them . . . and even the romantic attention of the fae rock singer Creed Morrison isn't enough to keep Lily from wanting to run back to the familiar world she knows.
My Thoughts:
My secret pleasure - I love fairy tales! Any kind - childlike ones, darker adult ones - you name it! But I think my favorite are the ones that are directed to young adults, and one of the premier authors of this genre is Melissa Marr. And she is back with her latest book, "Seven Black Diamonds."
I really enjoyed this beginning book of a new series. Marr develops her characters and presents them to her reading audience slowly but very clearly - the reader soon feels like they are right among these powerful young teens. The premise of the story (and series) is saving the world from the angry fae Queen, and this is a very action-packed and fast-paced tale. Lots of fun to read!
I highly recommend this book for teens and young adults who enjoy this genre, and to us more mature folks who like them too!
About The Author:
Melissa Marr is the author of the bestselling Wicked Lovely series as well as the adult fantasy novels
Graveminder
and
The Arrivals
. When not writing, editing, or traveling, Melissa is buried under a plethora of books, dogs, and children in Virginia or online at
www.melissa-marr.com
.
My thanks to Harper Collins for providing the review copy of this book. I was not compensated for my opinion.