About All Summer Long
• Hardcover:
384 pages
• Publisher:
William Morrow (May 31, 2016)
Dorothea Benton Frank novels are smart and witty fiction that readers want on their bookshelf: soulful, edgy stories about realistic characters familiar to us all that explore the most deeply felt moments of life with wry humor and heart.
All Summer Long follows one charming New York couple–prominent interior designer Olivia Ritchie and her husband, Nicholas Seymour, an English professor and true southern gentleman. They are seemingly polar opposites, yet magnetically drawn together and have been in love for more than fourteen years.
As they prepare to relocate to Charleston, South Carolina, Olivia, the ultimate New Yorker, has reservations about the promise she made to retire in the Lowcountry, where Nick wants to return home and lead a more peaceful life. They are moving north to south, fast pace versus slow pace, and downsizing. Nick is ecstatic. Olivia is not. She can't let Nick know that their finances are not what he thought. Her client list is evaporating, their monetary reserves are dwindling, and maybe that house she picked out on Sullivans Island needs too much work. Thank God for her assistant, Roni Larini, her right (and sometimes left) hand.
As they find themselves pondering the next step of their lives, Olivia and Nick travel with her billionaire clients and their friends and are swept up in the world of the ultra-rich, exploring the globe with a cast of zany eccentrics over one tumultuous, hot summer. All as Olivia grapples with what lies ahead for her and Nick.
This is a story of how plans evolve and lives change in unexpected ways, how even those who have everything are still looking for something more. Even the most successful people can often struggle to keep things together. All Summer Long asks the ultimate question: Can money buy happiness? From Sullivans Island to Necker Island to Nantucket to the beaches of Southern Spain, we'll come to recognize the many faces of true love; love that deepens and endures, but only because one woman makes a tremendous leap of faith. And that leap changes everything.

Purchase Links
My Thoughts:
Southern author Dorothea Benton Frank is the Queen of Low-country Fiction, as far as I'm concerned! No one can capture the atmosphere and uniqueness of the South Carolina coastal communities like Frank, and it is always a pleasure reading one of her books, especially during the summertime.
With "All Summer Long," Frank's seventeenth novel, she brings in an entire cast of quirky characters and mixes them together with unusual personal backgrounds and exotic locales and the result is a fun book that will leave the reader longing to pack their bags and join them on their adventures. The reader does need to pay close attention with this novel as there are so many sub-plots and intermixing of characters, but the reward of a great story is worth the extra time in the end.
I always love recommending Dorothea Frank's books and it is no exception with "All Summer Long." The perfect book to toss into the beach bag or suitcase this summer!
About Dorothea Benton Frank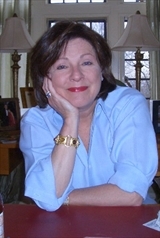 New York Times
bestselling author Dorothea Benton Frank was born and raised on Sullivans Island, South Carolina. She resides in the New York area with her husband.
Find her on the web at
www.dotfrank.com
, or like her on
Facebook
,
Twitter
, or
Instagram
.
Tour Stops
Tuesday, May 31st:
A Tattered Copy
Wednesday, June 1st:
A Chick Who Reads
Thursday, June 2nd:
bookchickdi
Friday, June 3rd:
Stranded in Chaos
Monday, June 6th:
Seaside Book Nook
Tuesday, June 7th:
Books and Bindings
Wednesday, June 8th:
Tina Says…
Monday, June 13th:
5 Minutes For Books
Tuesday, June 14th:
From the TBR Pile
Wednesday, June 15th:
Sharon's Garden of Book Reviews
Wednesday, June 15th:
Staircase Wit
Monday, June 20th:
Kritters Ramblings
Wednesday, June 22nd:
Diary of a Stay at Home Mom
Thursday, June 23rd:
A Soccer Mom's Book Blog
Friday, June 24th:
Queen of All She Reads
TBD:
Lavish Bookshelf
My thanks to TLC Book Tours for including me on this tour and to Harper Collins Books for supplying the review copy. I was not compensated for my opinion.