About Forever Beach
• Paperback:
416 pages
• Publisher:
William Morrow Paperbacks (June 7, 2016)
One woman struggling to hold on to what she has. . . .
One woman learning to forgive. . . .
Their lives entwined by one little girl.
Sarah Hargreave is anxious to finalize the adoption of her foster daughter, Leila. Once a foster child herself, Sarah longs to become Leila's "forever" family and give her all the love and stability she was denied in her own childhood. When Leila's biological mother suddenly reappears and petitions the court for the return of her daughter, Sarah is terrified she'll lose the little girl she loves to the drug- addicted mother who abandoned her.
Having grown up in foster care, Ilona Cartwright is a lawyer who fights for the rights of children who have no one to fight for them. But to Sarah she is Nonie Blanchard, who grew up in the same group foster home as Sarah. They'd promised to be best friends forever, but then Nonie was adopted by a wealthy family, and Sarah never heard from her again. Sarah still hurts from the betrayal. But Nonie harbors her own resentment toward the past.
Mistrustful of each other, the two women form a tenuous alliance to ensure Leila's future, but when Leila's very survival is on the line, they'll have to come to terms with their own feelings of hurt and rejection to save the child they both have come to love.

Purchase Links
My Thoughts:
If you were thinking that "Forever Beach" would be a light-hearted "beach" read for the summer, you would have been mistaken.
Shelley Noble takes readers into the "belly" of Children Protective Services with this novel that is heart-wrenching, highly emotional and filled with twists and unexpected - at least it was for me.
Noble's cast of characters are widely diverse, but are drawn together for the sake of doing what's right for one little girl, and it is a hard-won fight that is intertwined throughout the story. Using past tense through letters that were written by the two main characters gives the reading audience some background, and using several different view points is also interesting and informative.
This was a hard novel for me to get through for some reason. I was a little frustrated with the characters' constant "woe is me" attitude, and the lack of a specific setting was unsettling. The author never really tells where the book is set, I think it was on the East coast, but not ever sure. Also, the subject of fostering and adoption is a sensitive one for me as my family has been through the "adopter" of a foster child twice and both times, the outcome was not pretty at all.
As I said - "Forever Beach" is not a light, fluffy, fun read - but it is interesting and will keep the reader's interest to the very end.
About Shelley Noble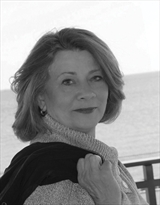 Shelley Noble is a former professional dancer and choreographer and has worked on a number of films. She lives at the Jersey shore where she loves to visit lighthouses and vintage carousels. She is a member of Sisters in Crime, Mystery Writers of America, and Romance Writers of America.
Find out more about Shelley at her
website
, and connect with her on
Facebook
and
Twitter
.
Tour Stops
Tuesday, June 7th:
A Chick Who Reads
Wednesday, June 8th:
Bibliotica
Monday, June 13th:
Kritters Ramblings
Thursday, June 16th:
Into the Hall of Books
Monday, June 20th:
Book by Book
Tuesday, June 21st:
StephTheBookworm
Thursday, June 23rd:
Sharon's Garden of Book Reviews
Tuesday, June 28th:
A Soccer Mom's Book Blog
TBD:
Comfy Reading
TBD:
Diary of a Stay at Home Mom
TBD:
Queen of All She Reads
My thanks to TLC Book Tours for including me on this tour and to William Morrow Books for providing the review copy. I was not compensated for my opinion.