Paperback
Publisher: Lake Union Publishing (May 24, 2016)
New York Times bestselling author Catherine Ryan Hyde returns with an unforgettable story of courage.
Seventeen-year-old Ethan Underwood is totally unprepared to search for his father in the Blythe River National Wilderness. Not only is he small, scrawny, and skittish but he's barely speaking to the man after a traumatic betrayal. Yet when his father vanishes from their remote cabin and rangers abandon the rescue mission, suddenly it's up to Ethan to keep looking. Angry or not, he's his father's only hope.
With the help of three locals—a fearless seventy-year-old widow, a pack guide, and a former actor with limited outdoor skills—he heads into the wild. The days that follow transform Ethan's world. Hail, punishing sun, swollen rapids, and exhausting pain leave him wondering if he's been fooled yet again: Is his father out here at all? As the situation grows increasingly dire, Ethan realizes this quest has become about more than finding his dad.
From the bestselling author of
Pay It Forward
comes a story of nature revealing
human
nature—the trickiest terrain. Navigating an unforgiving landscape, Ethan searches himself for the ability to forgive his father—if he finds him alive.
.

Purchase Links
My Thoughts:
Coming of age story meets action adventure meets family drama - these are all elements in author Catherine Ryan Hyde's latest novel, "Leaving Blythe River and they all blend together to create a very readable story that will appeal to young adult readers as well as mature adults.
Ryan Hyde is well known for her best-selling novel, "Pay It Forward," which also was a brilliant coming-of-age story that made a major impact on the reading and movie-watching world. You can still hear of people "paying it forward" today. While "Leaving Blythe River" has glimmers of the same type of story, this is a grittier, darker story of father/son conflict that gives this novel a bit of more realistic family dynamics, a more believable plot line.
I enjoyed getting to know the characters in this tale - especially the feisty and often funny widow Jone. I also cheered on the main character Ethan - it was fulfilling to "watch" him grow from an awkward city boy to a more mature young man who can take on the world without fear after his summer in the mountains of Wyoming.
I recommend "Leaving Blythe River" as an intelligent read for the summer.
About Catherine Ryan Hyde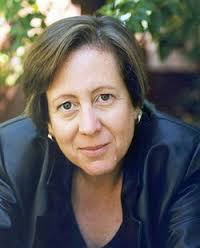 Catherine Ryan Hyde is the author of thirty published and forthcoming books. Her bestselling 1999 novel
Pay It Forward
, adapted into a major Warner Bros. motion picture starring Kevin Spacey and Helen Hunt, made the American Library Association's Best Books for Young Adults list and was translated into more than two dozen languages for distribution in more than thirty countries.
Her novels
Becoming Chloe
and
Jumpstart the World
were included on the ALA's Rainbow List;
Jumpstart the World
was also a finalist for two Lambda Literary Awards and won Rainbow Awards in two categories. More than fifty of her short stories have been published in many journals, including the
Antioch Review
,
Michigan Quarterly Review
, the
Virginia Quarterly Review
,
Ploughshares
,
Glimmer Train
, and the
Sun
, and in the anthologies
Santa Barbara Stories
and
California Shorts
and the bestselling anthology
Dog Is My Co-Pilot
.
Her short fiction received honorable mention in the Raymond Carver Short Story Contest, a second-place win for the Tobias Wolff Award, and nominations for
Best American Short Stories
, the O. Henry Award, and the Pushcart Prize. Three have also been cited in
Best American Short Stories
.
Ryan Hyde is also founder and former president of the Pay It Forward Foundation. As a professional public speaker, she has addressed the National Conference on Education, twice spoken at Cornell University, met with AmeriCorps members at the White House, and shared a dais with Bill Clinton.
Connect with Catherine Ryan Hyde
Catherine Ryan Hyde's TLC Book Tours TOUR STOPS:
Tuesday, May 24th:
Peeking Between the Pages
Thursday, May 26th:
Kritter's Ramblings
Friday, June 3rd:
Write Read Life
Monday, June 6th:
Just Commonly
Monday, June 13th:
Puddletown Reviews
Tuesday, June 14th:
Patricia's Wisdom
Wednesday, June 15th:
The Magic All Around Us
Thursday, June 16th:
Book Dilettante
Monday, June 20th:
FictionZeal
Tuesday, June 21st:
From the TBR Pile
Wednesday, June 22nd:
Hoser's Blook
Friday, June 24th:
Sharon's Garden of Book Reviews
Monday, June 27th:
Bibliotica
Thursday, June 30th:
I'd Rather Be at the Beach
TBD:
Sweet Southern Home
My thanks to TLC Book Tours for including me on this tour and to Lake Union Publishing for providing the review copy of the book. I was not compensated for my opinion.