About Little Is Left to Tell
• Print Length:
284 pages
• Publisher:
Campanile Books
Little Is Left to Tell
is the haunting novel by master fabulist Steven Hendricks. Enter a nocturnal world where the unreal is seen on a liminal horizon of fading memory, illuminated by partial understanding and lyrical fictions. Virginia the Wolf writes her last novel to lure her daughter home. A rabbit named Hart Crane must eat words to speak, while passing zeppelins drop bombs. Mr. Fin tries to read the past in marginalia and to rebuild his son from boat parts. A novel that bridges between dreamscape and reality,
Little Is Left to Tell
is entrancing and enthralling.
"In
Little is Left to Tell
one scene is quietly illuminated and then that illumination glides to the next, equally quiet and wondrous. Like a dream that inhabits an entire life, even a life of reading, this is a deeply rich and surprising novel." — Amina Cain, author of
Creature
"A tale about the ravages of old age, the weight of the past and bunny rabbits. Debut novelist Hendricks tries to apply the whimsical mood of fairy tales to the mildly experimental fiction at play here, and he largely succeeds despite the grim nature of his story. …A vivid story that uses the language and metaphors of myth to reflect on the unkind nature of age and perception." —
Kirkus Reviews


My Thoughts:
Unique, unusual, sad, imaginative, funny and well, weird. That pretty much describes "Little Is Left To Tell." It's an adult fable that takes a great deal of attention to the fine details to understand, but in the end is totally worth the effort.
The characters - well, there's talking bunnies, a nice lady named Vivian (I kind of liked that - it's my mom's name), a elderly man named Fin who is just trying to bring back his son, and a whole slew of others that are included in a cast that won't soon be forgotten.
The plot - here is where I had a little bit of a problem. The author needed to perhaps pull the storyline together a bit - some readers will have a hard time with the stories sliding into each other as they do in this strange tale. I love the premise of the story and can imagine it in my mind like an animated movie - it just needs a little polishing.
Overall - I would recommend this book to the millennial crowd - they will eat it up with a spoon. Definitely a "no" for younger readers, and a "maybe" for more mature readers. I do look forward to more work from the author - he has a keen, imaginative mind!
About Steven Hendricks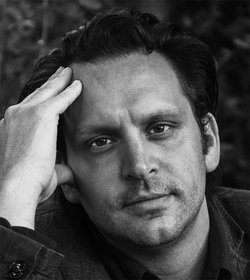 Steven Hendricks lives in Olympia, Wa. with his wife and two children. He teaches writing and book arts at The Evergreen State College. His work has appeared in The Denver Quarterly (2000), Conjunctions (2001), Fold: The Reader ( 2002), and The
Encyclopedia Project Vol. 3
(Sidebrow, forthcoming). He earned his MFA in Writing at The School of the Art Institute of Chicago in 2000.
Little is Left to Tell
is his first novel.
Visit Steven at his
website
.
Tour Stops
Wednesday, May 25th:
Sara's Organized Chaos
Thursday, May 26th:
Great Imaginations
Tuesday, May 31st:
Ms. Nose in a Book
Wednesday, June 1st:
Dwell in Possibility
Thursday, June 2nd:
Laura's Interests
Monday, June 6th:
Dreaming Big
Tuesday, June 7th:
Alexia's Books & Such
Wednesday, June 8th:
Writing and Running Through Life
Thursday, June 9th:
Fearless Creative
Monday, June 13th:
Books & Tea
Wednesday, June 15th:
Thoughts On This 'n That
Friday, June 17th:
Belle's Beautiful Books
Monday, June 20th:
No More Grumpy Bookseller
Tuesday, June 21st:
A Bookish Way of Life
Saturday, June 25th:
Sharon's Garden of Book Reviews
My thanks to TLC Book Tours for including me on this tour, and for providing the review copy. I was not compensated for my opinion.