About The Royal Nanny
• Paperback:
384 pages
• Publisher:
William Morrow Paperbacks (June 21, 2016)
April, 1897: A young nanny arrives at Sandringham, ancestral estate of the Duke and Duchess of York. She is excited, exhausted—and about to meet royalty. . . .
So begins the unforgettable story of Charlotte Bill, who would care for a generation of royals as their parents never could. Neither Charlotte—Lala, as her charges dub her—nor anyone else can predict that eldest sons David and Bertie will each one day be king. Lala knows only that these children, and the four who swiftly follow, need her steadfast loyalty and unconditional affection.
But the greatest impact on Charlotte's life is made by a mere bud on the family tree: a misunderstood soul who will one day be known as the Lost Prince. Young Prince John needs all of Lala's love, the kind of love his parents won't—or can't—show him.

Purchase Links
My Thoughts:
I'll admit it right here - I'm something of an anglophile! Yes, I love reading stories about England's royal family - past, present, you name it! I love it!
So I was thrilled to read Karen Harper's latest novel, "The Royal Nanny!" This story of Charlotte Bill, the woman who was nanny to the six children of King George V and Queen Mary, is, what Harper explained, a "faction" - a fictional story based on actual factual research - and she does a magnificent job of sharing the real stories of the Windsor children growing up and the woman who raised them through a wonderfully descriptive tale.
Among these children would be two kings - King Edward VIII, who would become the infamous Duke of Windsor after he abdicated his throne to marry the American Wallis Simpson; and King George VI, the father of the current Queen Elizabeth, and whose life was brought to life in the movie "The King's Speech. There was also Princess Mary, two dukes - Henry and George, and the last child of the Windsors, Johnnie, who was known as the "Lost Prince" due to his delicate health and epileptic seizures. "Lala," as Charlotte Bill was known, raised these children - four from birth - with loads of love and a generous helping of discipline.
Combining a fascinating look at the royal family with a bit of a love story makes "The Royal Nanny" a mesmerizing read that will appeal to fans of historical fiction, royal fiction, and anglophiles - those who love the English culture! Through her spellbinding storytelling, Harper brings to life both the lives of the royal family but also the lives of the household staff that revolved in the world around them. Many of the staff members of the Windsor household become almost like family, especially those who tended and worked with the children, and it was captivating to read about all the adventures, excitement, and even tragedy that surround the royals.
I highly recommend "The Royal Nanny" as a wonderful summertime read! Due to be released on June 21, this novel should be in your beach bag or on your TBR pile immediately!
About Karen Harper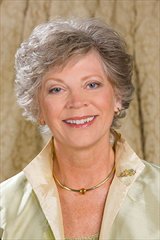 New York Times
and
USA Today
bestselling author KAREN HARPER is a former Ohio State University instructor and high school English teacher. Published since 1982, she writes contemporary suspense and historical novels about real British women.
Two of her recent Tudor-era books were bestsellers in the UK and Russia. Harper won the Mary Higgins Clark Award for
Dark Angel
, and her novel
Shattered Secrets
was judged one of the best books of the year by
Suspense Magazine
.
Find out more about Karen at her
website
, and connect with her on
Facebook
.
My thanks to William Morrow Books for supplying the review copy of this book. I was not compensated for my opinion.