Paperback: 298 pages
Publisher: Lake Union Publishing (July 1, 2016)
Thelma Adams
has built a successful career writing profiles of Hollywood's biggest and brightest stars. From Julianne Moore and George Clooney to Jessica Chastain and Matthew McConaughey, her portfolio is dazzling and reputation as a film critic in the industry stellar.
Now, Adams shifts from Hollywood to the Wild West with
THE LAST WOMAN STANDING
(Lake Union Publishing; on-sale July 1, 2016), the first biographical novel about Josephine Marcus, Wyatt Earp's wife, the gutsy Jewish beauty who captured the lawman's heart in 1881, the year he fought the legendary Gunfight at the OK Corral.
In her well-researched and vividly composed novel, Adams doesn't waste any time proving her talent as a dynamic writer with a cinematic flair. She explores the brief defining period when Josephine comes-of-age on the American frontier, weaving action, wit, and clever introspection.
The daughter of Jewish immigrants, Josephine shames her tight-knit family (her over-bearing mother begins to sit-shiva the minute Josephine walks out the door) when the 19-year-old follows the smooth-talking and attractive lawman, Johnny Behan, from San Francisco, California to Tombstone, Arizona. Hanging on the slim promise of a wedding, the naïve young woman eventually discovers the older man's untrustworthy side. She also learns that divided loyalties and corruption plague the silver boom town—with her fiancé at the conflict's heart. And she can't pretend she hasn't noticed the courageous straight-shooter Wyatt Earp who becomes Behan's sworn enemy.
When Behan betrays Josephine, she leaves him—and immediately faces the harsh realities of being a woman on her own in the Wild West, a world where a lady's every action depends on a man's approval.
Adams's storytelling from a female perspective, and her rich and descriptive style, allow the reader to feel Josephine's desperation as she realizes the only available options she has are prostitution or returning home. That is—until Wyatt Earp declares his love for her. As their romance blossoms and their bond deepens, Behan's jealousy ignites a rivalry destined for the history books.
THE LAST WOMAN STANDING
is a compelling novel: both an epic tale of an improbable romance and a retelling of an iconic American legend through a female lens. Josephine is a charismatic, fierce heroine who seeks to reinvent herself—and find her soul mate—in a lawless outpost among cowboys and lawmen, where few people are what they seem on the surface.
"Adams is that rare, vivid author who brings a cinematic quality to her wildly entertaining fiction."
—Peter Travers, Rolling Stone
.

Purchase Links
My Thoughts:
I've always been a big fan of western history, and I've always been especially keen on learning more about the women that played huge roles in history but who are often put into the background.
In her new book, Last Woman Standing, author Thelma Adams brings to the forefront of history the amazing and dazzling story of Josephine Marcus Earp, the wife of famed gunman Wyatt Earp. Writing in the voice of "Josie," Adams takes her readers to Tombstone, Arizona where the West was really wild and Josie Marcus found herself right in the middle of all the action. Sassy and fearless, this lady was besotted by the handsome and daring Wyatt Earp and he by her, and the adventures they set out on are the type that fantastic stories are made of, and Adams does this brilliantly.
While this book is a work of fiction, Adams had done her research, bringing meticulous detail to a fast-paced, lively story of one lady and how she just might have changed Western history for the better in some ways! (I'm a big admirer of the movie, "Tombstone," and kept envisioning the characters in this story as the same from the movie - Kurt Russell as Wyatt, Dana Delany as Josie - silly, but made the reading extra enjoyable!)
I absolutely loved this book, and highly recommend it to history fans, fans of western fiction, and fans of strong women characters!
About Thelma Adams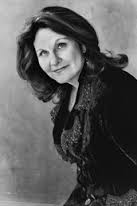 Thelma Adams is an established figure in the entertainment industry. For two decades, she has penned celebrity features and criticism for high-profile publications. Her portfolio of actor interviews includes Julianne Moore, George Clooney, Jessica Chastain, and Matthew McConaughey, among many others.
While covering film for the
New York Post
,
Us Weekly
, and Yahoo Movies, Thelma became a regular at film festivals from Berlin to Dubai, Toronto to Tribeca. She sits on the Hamptons International Film Festival Advisory Board and twice chaired the prestigious New York Film Critics Circle.
Her debut novel,
Playdate
, published by Thomas Dunne Books, won high critical acclaim. Adams is often recognized, as she has been invited to share her expertise on many broadcast outlets, including appearances on NBC's
Today
, CBS's
Early Show
, and CNN.
She graduated Phi Beta Kappa with a history degree from UC Berkeley and earned an MFA from Columbia University. She lives in Hyde Park, New York, with her family.
Connect with Thelma
Thelma Adams' TLC Book Tours TOUR STOPS:
Monday, June 27th:
WV Stitcher
Tuesday, June 28th:
A Bookish Affair
Wednesday, June 29th:
The Magic All Around Us
Friday, July 1st:
Lavish Bookshelf
Tuesday, July 5th:
A. Holland Reads
Wednesday, July 6th:
Sharon's Garden of Book Reviews
Thursday, July 7th:
Just One More Chapter
Monday, July 11th:
Books Without Any Pictures
Monday, July 11th:
FictionZeal
Wednesday, July 13th:
Laura's Reviews
Thursday, July 14th:
Reading is My Superpower
Friday, July 15th:
Write Read Life
Monday, July 18th:
A Bookaholic Swede
Tuesday, July 19th:
Books and Bindings
Wednesday, July 20th:
West Metro Mommy Reads
Friday, July 22nd:
Worth Getting in Bed For
Monday, July 25th:
Just Commonly
Wednesday, July 27th:
Mom in Love with Fiction
TBD:
Open Book Society
My thanks to TLC Book Tours for including me on this tour, and to Lake Union Publishing for providing the review copy. I was not compensated for my opinion.