Mass Market Paperbook: 384 pages
Publisher: MIRA (June 28, 2016)
Responsibility knocks, and a reckless, hedonistic man responds and opens the door to love—thus is a daredevil snared.
#1 New York Times
bestselling author Stephanie Laurens brings you the third installment in THE ADVENTURERS QUARTET, continuing the drama of Regency-era high seas adventure, laced with a mystery shrouded in the heat of tropical jungles, and spiced with the passionate romances of four couples and their unexpected journeys into love.
Captain Caleb Frobisher, hedonistic youngest son of a seafaring dynasty, wants to be taken seriously by his family, and understands he has to prove himself sufficiently reformed. When opportunity strikes, he seizes the next leg of the covert mission his brothers have been pursuing and sails to Freetown. His actions are decisive, and he completes the mission's next stage—but responsibility, once exercised, has taken root, and he remains in the jungle to guard the captives whose rescue is the mission's ultimate goal.
Katherine Fortescue has fled the life of poverty her wastrel father had bequeathed her and come to Freetown as a governess, only to be kidnapped and put to work overseeing a child workforce at a mine. She and the other captured adults understand that their lives are limited by the life of the mine. Guarded by well-armed and well-trained mercenaries, the captives have been searching for some means of escape, but in vain.
Then Katherine meets a handsome man—a captain—in the jungle, and he and his crew bring the sweet promise of rescue.
The sadistic mercenary captain who runs the mine has other ideas, but Caleb's true strength lies in extracting advantage from adversity, and through the clashes that follow, he matures into the leader of men he was always destined to be. The sort of man Katherine can trust—with her body, with her life. With her love.
The first voyage is one of exploration, the second one of discovery. The third journey brings maturity, while the fourth is a voyage of second chances. Continue the journey and follow the adventure, the mystery, and the romances to the dramatic end.
Praise for the works of Stephanie Laurens
"Stephanie Laurens' heroines are marvelous tributes to Georgette Heyer: feisty and strong."
—Cathy Kelly
"Stephanie Laurens never fails to entertain and charm her readers with vibrant plots, snappy dialogue, and unforgettable characters."
—Historical Romance Reviews
"Stephanie Laurens plays into readers' fantasies like a master and claims their hearts time and again."
—Romantic Times Magazine

Purchase Links

My Thoughts:
Stephanie Laurens has always been a favorite author of mine - her "Cynster Family" series and the "Black Cobra Quartet" are among some of my favorite romances! So I was thrilled to be asked to review her latest book, "The Daredevil Snared."
This is the third book of Laurens' The Adventurers Quartet series, so it took a little bit to get into the flow of the story, but there is enough backstory provided that readers can understand the story's history and jump into the action of the present adventures. The characters in this tale are feisty, brave, and well, romantic in the face of all the danger that lurks around them.
If you're looking for a bit of spice and a bit of excitement in your romance reading this summer, then "The Daredevil Snared" is the book for you. And you might want to pick up the previous two books in the series - "The Lady's Command" and "A Buccaneer At Heart" - you'll be glad you did!

About Stephanie Laurens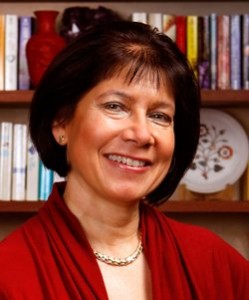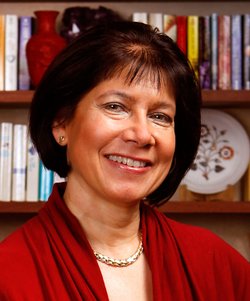 New York Times
bestselling author Stephanie Laurens originally began writing as an escape from the dry world of professional science. Her hobby quickly became a career; she has been writing historical romance novels for more than 20 years. Currently living outside Melbourne, Australia with her husband and two cats, she spends most of her days writing new stories in her signature 'Errol Flynn meets Jane Austen" style.
Connect with Stephanie
Stephanie Laurens' TLC Book Tours TOUR STOPS
Monday, June 27th:
Reading Reality
Tuesday, June 28th:
From the TBR Pile
– excerpt
Wednesday, June 29th:
The Sassy Bookster
– excerpt
Friday, July 1st:
A Chick Who Reads
Monday, July 4th:
Bewitched Bookworms
Tuesday, July 5th:
A Bookaholic Swede
– excerpt
Wednesday, July 6th:
The Maiden's Court
Friday, July 8th:
Sharon's Garden of Book Reviews
Tuesday, July 12th:
Becky on Books
Wednesday, July 13th:
A Holland Reads
Thursday, July 14th:
Books a la Mode
– excerpt
Friday, July 15th:
What I'm Reading
Monday, July 18th:
Broken Teepee
– excerpt
Monday, July 18th:
Buried Under Romance
– excerpt and review
Tuesday, July 19th:
Beverages and Books
Wednesday, July 20th:
Diary of a Stay At Home Mom
Thursday, July 21st:
Black 'n Gold Girls Book Reviews
Friday, July 22nd:
Moonlight Rendezvous
Monday, July 25th:
The Romance Dish
Tuesday, July 26th:
The Reading Wench
My thanks to TLC Book Tours for including me on this tour and to Mira Books for providing the review copy of the book. I was not compensated for my opinion.