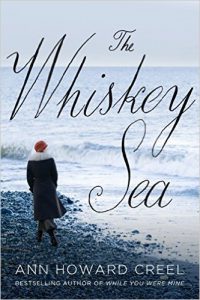 About
The Whiskey Sea
Paperback
Publisher: Lake Union Publishing (August 23, 2016)
Motherless and destitute, Frieda Hope grows up during Prohibition determined to make a better life for herself and her sister, Bea. The girls are taken in by a kindly fisherman named Silver, and Frieda begins to feel at home whenever she is on the water.
When Silver sells his fishing boat to WWI veteran Sam Hicks, thinking Sam would be a fine husband for Frieda, she's outraged. But Frieda manages to talk Sam into teaching her to repair boat engines instead, so she has a trade of her own and won't have to marry.
Frieda quickly discovers that a mechanic's wages won't support Bea and Silver, so she joins a team of rumrunners, speeding into dangerous waters to transport illegal liquor. Frieda becomes swept up in the lucrative, risky work—and swept off her feet by a handsome Ivy Leaguer who's in it just for fun.
As danger mounts and her own feelings threaten to drown her, can Frieda find her way back to solid ground—and to a love that will sustain her?
.

Purchase Links
My Thoughts:
I enjoy reading historical fiction - I like the history aspect, I like the people, I like the simpler times. Author Ann Howard Creel captures all theses crucial pieces of the pie in her new book, "The Whiskey Sea," and presents a perfect book for the fall reading season.
I really enjoyed the fast-paced storyline of this story of the Prohibition-era 1920s, and I loved the relationship between the two Hope sisters, Frieda and Bea. There is intrigue, romance, and action all rolled into this story and I was genuinely sad to see it come to an end when I reached the final page.
Fans of historical fiction will find "The Whiskey Sea" to be a great read, as will fans of romantic fiction as well. I highly recommend it!
About Ann Howard Creel
The Magic of Ordinary Days
was made into a Hallmark Hall of Fame movie for CBS. Creel currently lives and writes in Chicago. For more information about Ann's work, visit her website,
annhowardcreel.com
.
Ann Howard Creel's TLC Book Tours TOUR STOPS
Monday, August 22nd:
Musings of a Bookish Kitty
Tuesday, August 23rd:
You Can Read Me Anything
Wednesday, August 24th:
Staircase Wit
Thursday, August 25th:
I Wish I Lived in a Library
Friday, August 26th:
Thoughts on This 'n That
Monday, August 29th:
BookNAround
Tuesday, August 30th:
Black 'n Gold Girls Book Reviews
Wednesday, August 31st:
Caryn, The Book Whisperer
Thursday, September 1st:
Sharon's Garden of Book Reviews
Friday, September 2nd:
The Warlock's Gray Book
Monday, September 5th:
Patricia's Wisdom
Tuesday, September 6th:
Just Commonly
Wednesday, September 7th:
Reading is My Superpower
Thursday, September 8th:
Write Read Life
Monday, September 12th:
Bibliotica
Tuesday, September 13th:
Melissa Lee's Many Reads
Thursday, September 15th:
View from the Birdhouse
Friday, September 16th:
FictionZeal
Monday, September 19th:
Reading the Past
My thanks to TLC Book Tours for including me on this tour and to the publisher for providing the review copy. I was not compensated for my opinion.